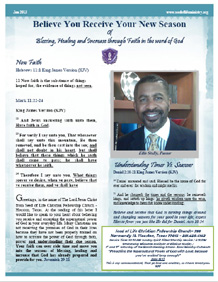 Follow us on








Pastor/Evangelist Ellis Stelly


Where the seed brings forth Fruit One Hundred fold in Jesus name Amen! Luke 8: 4-11

Ministry Biography:
Ellis Stelly has ministered the gospel for more than fifteen years. Heís the founder of Seed of Life Christian Fellowship Church in Houston Texas where he serves as Pastor. Brother Stelly was directed by his pastor of six years and founder of Lakewood Church in Houston, Texas, the Honorable John H. Osteen, to perfect his gift from God by working in ministry. Shortly thereafter, he graduated from Abundant Life School of Ministry and Bible College in La Marque, Texas where Dr. Walter Hallam is Chancellor. He also attended Wisdom Bible Institute in Orange, Texas and Lamar University in Beaumont, Texas. He is also a United States Army Veteran.

Brother Stelly has ministered the word of God with the power and demonstration of the Holy Ghost in numerous church conferences, revivals, prayer breakfast's, men's meetings, and in-home bible studies. His desire is to please the Lord through his ministry, reach the unreachable, tell the untold that Jesus Christ loves them and desires greatly to be their Lord and Savior. Seed of Life Christian Fellowship Church has four major evangelistic outreaches: a worldwide webcast to preach to the nations, a food feeding ALMS ministry and soup kitchen that has fed thousands of Houstonís Homeless, a Healing School ministry that provides an intense biblically based supernatural healing program for those needing the hand of God to move in their life, a weekly radio broadcast to the un-churched and the sick and shut in. He is assisted in this work by his wife and love Minister / Teacher Charlottee Stelly. To God be the Glory.